SEASON EXTENDER

The outdoor season can be extended with several months, Statio keeps your body warm when the temperature drops, as the heat rises from below, the entire body will feel comfortably warm. Statio utilizes the body's natural heating system and ensures a comfortable warmth. At the same time, the Statio tables are space saving as the heater is built into the table leg. The space previously used on gas heaters can now make room for more outdoor tables and thus increase earnings.
Statio is a high table with integrated heat, designed for restaurants, bars and cafes. The table is developed to heat outside standing spaces.

SAFE TOUCH by MENSA HEATING
Our heaters are the only one of its kind to have SAFE TOUCH, and thereby we see MENSA HEATING's products as the safest outdoor heaters in the world! With its unique patent pending technology MENSA HEATING is able to provide products with SAFE TOUCH, which allows you to touch the heaters at all times. Thanks to Danish engineering, we have managed to invent this unique function, which has been carried out to all our models.
PERFORMING AN EFFECT OF 2000W WITH ONLY 700W
MENSA HEATING uses only the best lamps on the market (Quartz Short wave), securing 92% efficiency. And due to our unique construction of the bipolar lamp house, we can perform as similar to 2000W lamps, but only using 700W. This makes our heaters less expensive in running cost, and reduces the CO2 emission by more than 66%.
STATIO VS. GAS HEATERS
Traditional gas heaters have a long warm-up time and is at the same time wasting a lot of heat up in the air. From the moment you turn on Statio, you will instantly feel the heat. Statio uses infrared radiation, which only heats up the persons standing at the table; this gives a much more efficient heat. Statio is very economical to use and requires a minimal service, compared to a traditional gas heater.

THOUGHTFUL
Statio creates a comfortable "rest stop", outside the restaurant. Statio can be free standing or bolted directly into the tile / subfloor.

PLUG & PLAY
Statio requires no preparation. Simply connect the product to a power outlet and you have instant heat.
Nam tempus turpis at metus scelerisque placerat nulla deumantos solicitud felis. Pellentesque diam dolor, elementum etos lobortis des mollis ut risus. Sedcus faucibus an sullamcorper mattis drostique des commodo pharetras loremos. Donec pretium egestas sapien et mollis.
SHIPPING COSTS
Shipping is free in Canada and the USA!

DELIVERY TIMES
We deliver your order to you as soon as possible. You will usually receive your order within 2-7 days. Occasionally, despite all our best efforts, a delivery takes longer. Maybe a product is out of stock or the delivery takes a bit longer than planned. On the product page there is an indication of the delivery time. If for any reason we are not able to meet this delivery time, we will let you know.
WE INCLUDE A 2 YEAR WARRANTY AND SUPPORT FOR ALL ORDERS

WARRANTY
We guarantee that our products are free of material and manufacturing errors for a period of two years from the date of purchase.  MENSA HEATING will repair or replace any component that is defective within the warranty period. This warranty applies only to the original buyer who purchased a new product from MENSA HEATING or authorized resellers. In no case shall MENSA HEATING be liable for non-warranty claims or for any other claims or damages, including but not limited to claims for incorrect design, inaccurate or misleading advice, incidental damage or consequential damage or injury to another person, company or entity. The guarantee does not apply if such repair or replacement of parts is required due to an accident, neglect or abuse, or if the equipment is modified or repaired other than in accordance with the maintenance and service instructions of MENSA HEATING, or when a component or part is used that is not originally provided by MENSA HEATING or its authorized resellers. All claims are limited to the repair or replacement of the products only.

COMPLAINTS
It can happen that something does not go as planned. Let us know by email info@mensaheating.ca and we will find a solution.
Frequently Asked Questions
Mensa Heating's products are 100% safe, both to the touch and against water. Mensa Heating provides safe heat just where the body needs it.
For cleaning the heaters we recommended to use ordinary glass cleaner on spray. Spray this to a clean cloth, then wipe the product. Please do not spray directly into the heater.
If you currently own a gas heater and want to switch to one of Mensa Heating's products, you can look forward to a saving of around 90% in operating costs. You save a significant amount of money and reduce your carbon footprint more than 66%.
The name Mensa Heating arises from the latin word Mensa, which means 'table' - 'Table Heating'. Vireoo is latin for 'I am green'. Imus is latin for 'Underneath'. Statio is latin for 'Standing'.
The heat builds up slowly in the body, and you will experience the full pleasure of being near our heaters after a few minutes.
Most Asked Technical Questions
All Mensa Heating products are cETL approved - approved for Canada.
The custom-made quartz shortwave bulb is only 0.4 kW / 0,55 kW / 0.7 kW. The lamp does not heat up the air, but forms the first heat when the rays of light hits an object/person. The heat source does not use unnecessary energy to heat the air.
Mensa Heating products are plug and play products, ready to go the moment you have them. In Canada all you need is a 110v power outlet. Our heaters can be placed under an existing patio table, or can be placed next to a patio chair to provide soothing warm heat.
If you switch from gas heating to one of Mensa Heating's products, the CO2 reduction is minimum 80%.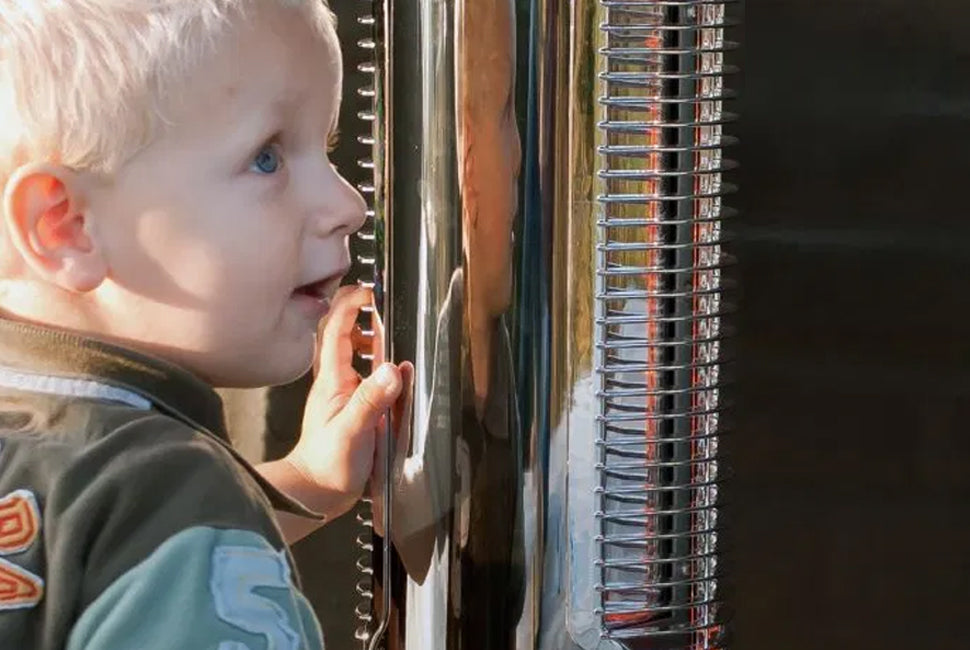 Safe To Touch
Each of our heaters are safe to touch, therefore we see Mensa Heating's products as the safest outdoor heaters in the world. With unique patented technology, Mensa Heating provides products with a safe to touch function. This allows you to touch the heater at all times. Thanks to Danish engineering, we have invented this unique function, which has been carried out though to all our models.
Extend The Season
We are facing unprecedented times in our own lives and as businesses. Having a comfortable patio setting has become essential for everyone to enjoy their business and lifestyle. Find out how our technology is helping businesses stay open longer with lower operating costs.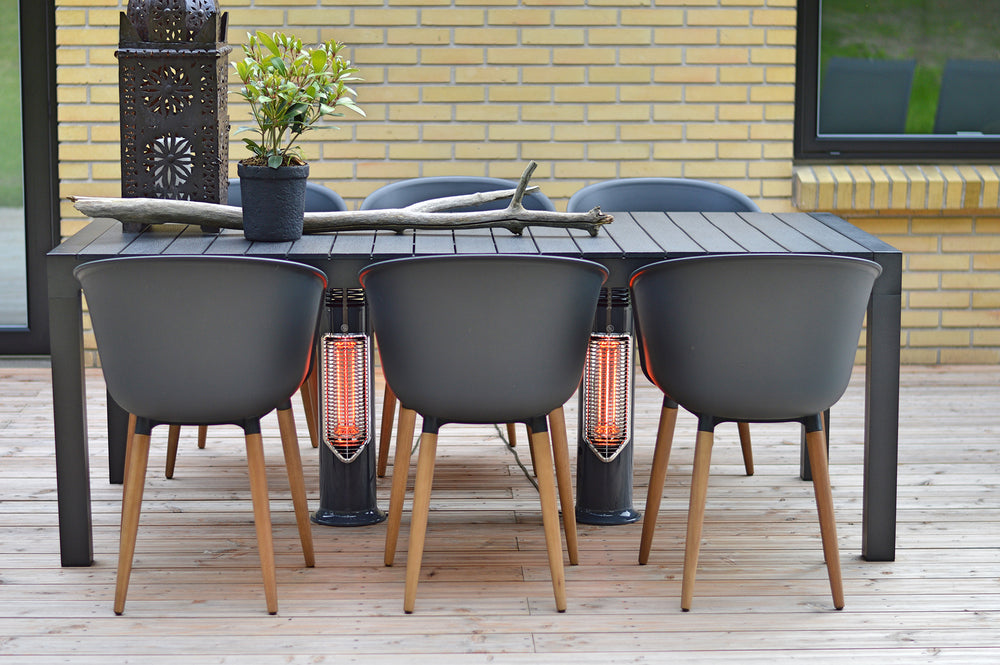 Save On Energy And The Environment
The heat from Mensa Heating is based on infrared quartz short wave, which is the most environmentally friendly solution for outdoor use. The result is a reduction in CO2 emission by more than 89%, compared with conventional gas heaters and substantial savings on energy costs.